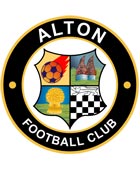 Alton Football Club
Football Club in Alton Hampshire
Alton Football Club play at "The Enclosure" in Anstey Park, Alton. The First Team are currently members of the Wessex League Division One.
The club consists of over 30 teams, including juniors, ladies, seniors and vets.

This new club is formed by the merger of Alton Town FC and Alton United Youth FC in 2016.

Previously the senior section (Alton Town FC) was formed in 1990 when Alton's two senior clubs, Alton Town and Bass Alton, amalgamated. Alton Town had been fantastically successful, winning everything in Hampshire in the period from 1948 to 1956 including Hampshire leagues Divisions 3, 2 & 1 (1948, 1949 & 1958), the Hampshire Intermediate Cup in 1949, the Russell Cotes Cup in 1949 and the Hampshire Senior Cup in 1958.